2017 Family Foresters Workshop Registration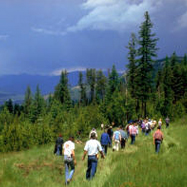 26th Annual Family Foresters Workshop
Friday, January 19, 2018
8:30 am to 5:00 pm
Coeur d'Alene Inn (Best Western Plus)
Intersection of I-90 & Hwy 95
Coeur d'Alene, Idaho
Family forests (also known as non-industrial private forests or "NIPF" lands) are vital to the economy and quality of life in the Inland Northwest. These lands are critical for wildlife habitat, timber production, scenic quality, and many other values.
Unique skills are required of individuals who help family forest owners manage their property. This program is designed to:
• Strengthen the skills of consulting foresters, state-employed service foresters, and other natural resource professionals who work with family forest owners.
• Serve as a forum to provide updates on emerging technology and knowledge applicable to family forestry.
Program Agenda - January 19, 2018
Time
Subject
8:30 am
Registration Opens
8:45 am
Examining Seed Sources - The Seedlot Selection Tool:

Glenn Howe, Oregon State University

9:45 am
Idaho Survey of Family Forest Owners:

Dennis Becker, University of Idaho

10:45 am
Break
11:10 am
TBD:
12:00 pm
Lunch
1:15 pm
Biochar and Inexpensive Kilns to make It:

Darren McAvoy, Utah State University

2:00 pm
"Managed Wildfire" and What It Might Mean for Family Forests:
2:40 pm
The Oregon Woodland Cooperative:

Neil Schroeder, President

3:15 pm
Break
3:30 pm
Effectiveness of Riparian Buffers on Stream Temperature:

Rob Keefe, University of Idaho

4:15 pm
Family Forest Economics/Policy Update:

Gregg Latta , University of Idaho

5:00 pm
Close
Society of American Foresters continuing forestry education credits: 6 hours, Category 1
Idaho Pro-Logger credits: 6
Idaho Master Forest Stewards credits: 6
WCLA Master Logger credits: 6
Registrations
The program can accommodate up to 100 people, so please register by January 12, 2018, to assure your place and help us plan. An $85 pre-registration fee ($95 after January 12 or at the door) includes lunch and refreshments. There is an additional $5 fee for online registration.
A small block of rooms at the Best Western Plus Coeur d'Alene Inn has been reserved until January 12th, 2018 at a special rate of $87 plus taxes (single occupancy) for participants in this program. To make a room reservation, call (800) 251-7829. To get the special rate, say you are with the "UI/WSU Family Foresters Workshop". After January 12th, reservations will still be taken at the lower rate, based on availability.
For registration questions, contact the UI Extension Office in Kootenai County at (208) 446-1680. For program questions, contact:
Chris Schnepf, Area Extension Educator - Forestry
University of Idaho Extension, Coeur d'Alene
Phone: (208) 446-1680
E-mail: cschnepf@uidaho.edu
Andy Perleberg, Regional Extension Specialist - Forestry
Washington State University Extension, Wenatchee
Phone: (509) 667-6540
E-mail: andyp@wsu.edu
In compliance with the Americans with Disabilities Act of 1990, those requesting reasonable accommodations should contact Chris Schnepf (208) 446-1680 at least one week prior to the program.
Cancellations: All cancellations must be received before Friday, January 12, 2018. Cancellations are processed as soon as possible and are subject to a $10 cancellation fee per registrant. No refunds will be provided after Friday, January 12, 2018.
An Idaho Forest Stewardship program
Co-sponsored by:
Cooperative Extension System

Washington State University
University of Idaho

Association of Consulting Foresters
Idaho Department of Lands
Washington Deptartment of Natural Resources
Idaho Forest Owners Association
Washington Farm Forestry Association
The University of Idaho and Washington State University are Equal Opportunity/Affirmative Action Employer and Educational Institutions
University of Idaho, Washington State University, and U.S. Department of Agriculture Cooperating