[Vendor] SESTA Conference 2018: Unlocking the Behavioral Code: Social and Behavioral Differences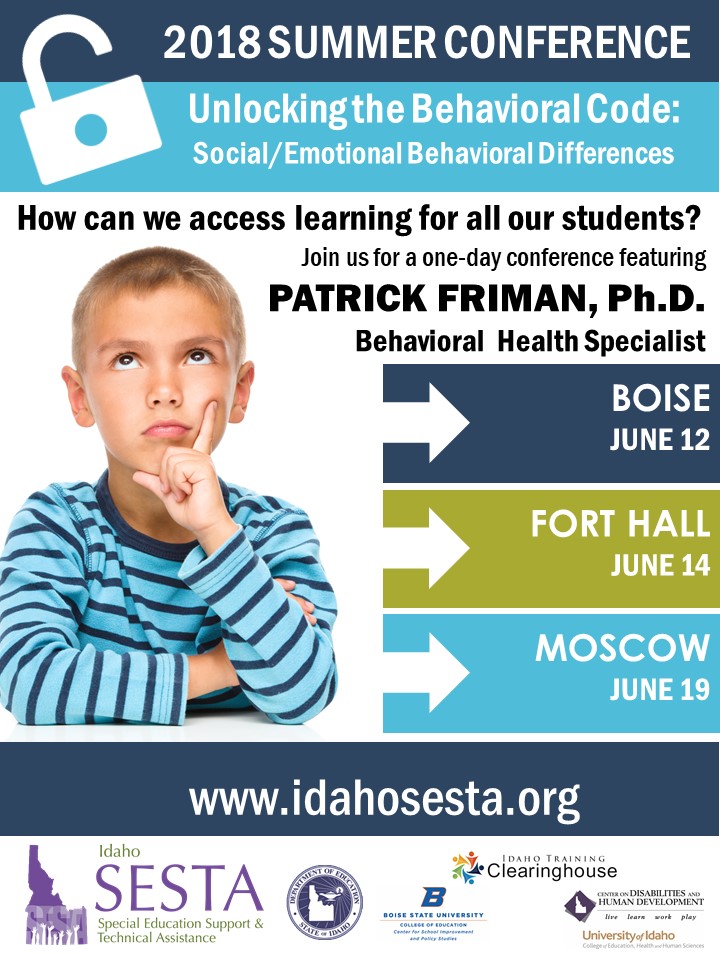 Conference registration close notice goes here...
We are looking forward to having you join us at our 2018 Summer Conference!
Information Table Opportunities:
All day conference: 8:30am - 4:00pm, check-in begins at 8:00am (Exhibit Table set up at 7:30am)
Several breaks scheduled throughout the conference to allow opportunities to visit your table
Your logo included in the Conference Program Book
Lunch is provided. Vegetarian options are available. Attendees with other dietary restrictions may choose to bring their own lunch.
***Please contact Christiania New at 208-885-1046 or christianianew@uidaho.edu with the information of how many representatives will be attending for your exhibit table at each location.***
Idaho SESTA presents a one-day conference focused on school based interventions and other treatment solutions for students who experience challenging behaviors, social isolation, and academic failure due to social emotional barriers and/or disabilities and mental health challenges. A variety of professionals have been invited to explain how these social/emotional behavioral issues manifest in children from early ages and to provide treatment strategies for students preschool through high school. Participants can expect to deepen their knowledge on:
Characteristics of social/emotional mental health issues that cause learning and social interaction barriers.
Classroom strategies that prevent behavioral challenges and support students to learn and develop positive social relationships.
Community and state resources and system of care for children and their families.
June 12 – Boise –
The Riverside Hotel
2900 Chinden Blvd, Boise, ID 83417 - 208-331-4914
June 14 – Fort Hall –
Shoshone-Bannock Hotel Event Center
I-15 Exit 80, Fort Hall, ID 83203 - 208-238-4800
June 19 – Moscow –
BW Plus University Inn
1516 Pullman Rd, Moscow, ID 83843 - 208-882-0550
For more information, please speak with your contact: Mary Robinson or Sue Shelton
Base price per table: $100 (minimum $150 for 1 location + $50 per additional location). Registration closes May 1, 2018.